The last few weeks @Highfurlong School have been bordering on incredible. It's been a month of mixed emotions, a month of highs and lows. At times I've had to pinch myself to make sure I'm not dreaming, as corny as that sounds.
It all began soon after the start of the new half term. As I drove into the school car park at 7 30 a.m. I was met by several members of staff shaking their heads in disbelief. We have 3 school minibuses and all 3 had been vandalised overnight. Windscreens were smashed back and front and there was large amounts of debris on the floor. As we are a special school our minibuses are vital for our students to access the curriculum. They are used daily as we make the learning meaningful for our children. To lose the buses was a devastating blow and had an immediate impact as two trips had to be cancelled that Monday morning. I'm pleased to say that the whole community rallied round to help us. Local schools and colleges offered the use of their buses. Local businesses and parents were very generous with their time and their help. The local radio stations ran news bulletins and interviews with our headteacher @NeillOldham which in turn brought extra offers of help for our children. There is always a silver cloud in any situation and in this case it was the fact that the whole community came together and supported our school. That aspect was heart warming to witness. The buses were soon up and running again and our usual standard of teaching and learning was resumed. For more information read here
In sharp contrast to the devastating news that we had received at the beginning of the week, our week ended on a high! We discovered that we had been shortlisted in the @Laughology 'Happiest School of the Year Award 2019'. What an incredible coup for us! We held a quick assembly  and told all staff and children together. There was lots of singing and dancing around the school at this news. We of course know that we're a very happy school but we would love to have it confirmed in an official capacity. Every person who comes through our school doors tells us that the welcome they feel is second to none. The school is filled with music and laughter to accompany our educational and caring offer. We sent a contingent of staff to London, some support staff, some teachers and some SLT while the rest of us awaited news. When the news arrived it was confirmed, Highfurlong is the happiest secondary school of 2019 as awarded at a very sparkling ceremony  in London from Laughology!  We were, and still are, absolutely thrilled! We pride ourselves on being a happy environment for everyone who comes to our school.
Following on from that award, two days later we were once again attending an awards ceremony in our own Blackpool Tower to celebrate the Fylde Coast education landscape. That evening we were thrilled to be handed top honours for 'Careers Aspriation' for helping older students to develop an understanding of different career pathways. Also, one of our younger pupils won pupil of the year for his support and empathy for the younger children in our school. Lastly, almost as an echo of the previous Friday evening Highfurlong was once again crowned best secondary school. As you can imagine, we were thrilled. What a whirlwind few days we were having!
As a  result of winning of these awards we once again attracted the attention of the local radio stations. Our headteacher, Neill Oldham was becoming quite an accomplished speaker by this time. The icing on the cake was when the BBC came to school to film us in our new capacity as the happiest school of the year. The children rose to the occasion and were keen to chat to the presenters and we were so proud of how articulate they were.  See the show here.
Just when we thought everything had calmed down and life would return to normal, last week  we held our Enterprise Fair. Our Enterprise curriculum is the jewel in the crown of our curriculum. This year at Highfurlong we have a brand new bespoke curriculum and enterprise is one important aspect of it. After years of hoping and waiting we now have our very own @TheGiftBox2019 Enterprise Shop on site that is open to the general public each Thursday morning. Each class chooses a theme twice a year and for a week the whole curriculum is delivered through enterprise. The internet is used to source ideas and resources, advertising posters are made using IT and English, maths is used for money, volume, measuring, capacity and volume. The classes are very creative and all profits go back to the children in the form of wages. The older students man the shop and learn life skills through working the till and stacking the shelves. It's a fantastic system and some wonderful goods are produced. We thought the school might be busy on the day of the fair but we couldn't have estimated just how busy it would be!  The queue to enter the shop snaked outside the shop and around the corner and the hall was buzzing with guests as the wider community came in to see what we had been up to. We were lucky enough to have a local school, Devonshire Road Primary School come along and sing for us and we were also joined by a professional choir. Preston Show Choir came along and treated us to a medley of festive songs and their performance was just beautiful. One class earned over £200 in profits for themselves for their wooden advent wreaths.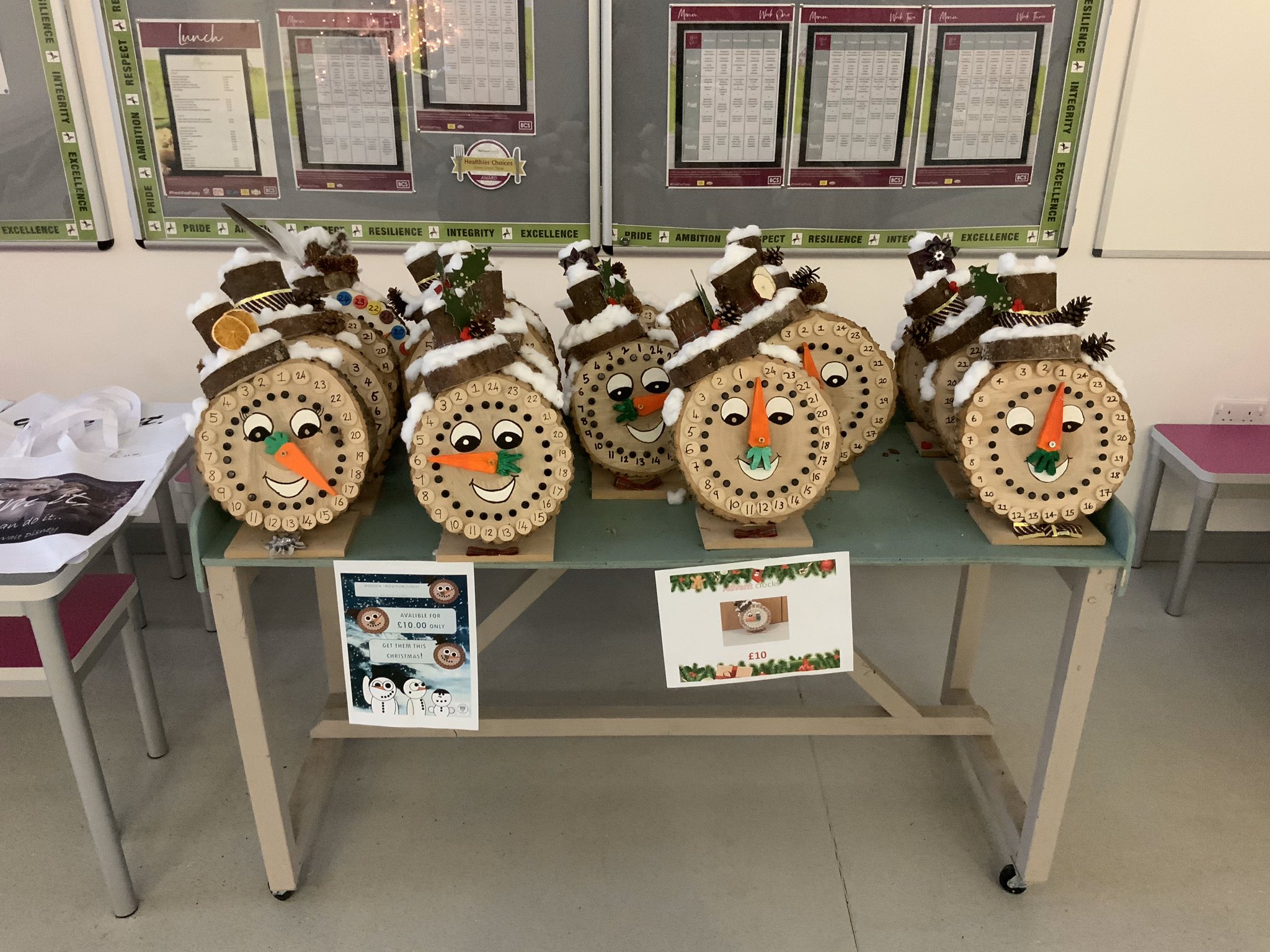 That day was the end of a very busy 3 weeks in school. What had started so badly with the vandalised buses had ended so well with the various awards and the TV appearance and much money being made for our children. It's been a hectic few weeks but it's been a real celebration of everything we do. We are a fully inclusive school, everyone is welcome and everyone is happy. We even have awards to prove it. We don't do it for the awards, we have created a family feel to our school and it's all for the children and includes all staff. The children are at the centre of all our discussions and all our decisions, just as they should be.
We think the last two weeks in school will be quieter. I'm not too sure about that though, we've heard a whisper that the TV crew might be visiting us again to see how we do Christmas. Watch this space.